I have this quote by Carol Kent neatly tucked away along with scriptures that speak to me about my significance in Christ and His unconditional love for me.
Our deepest passion for significance is finally satisfied when we realize He is all we need and we are "somebody" to Him.

I have struggled with feeling significant most of my life......
to read the rest of this post come visit me at The Cafe. (click on the button below)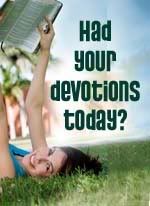 There are some exciting new changes going on at CWO's Internet Cafe which includes this fun new button to remind us to spend time in God's Word everyday! They are also having a giveaway this month which you can read about by clicking on the button below. It includes the John MacArthur Study Bible along with a copy of his book Twelve Extraordinary Women which I have read and is a really great resource. All you have to do is stop by and leave a comment on any post. But the fun part is that you can leave a comment everyday which will only increase your chance of receiving these great gifts. You do not have to have a blog to comment, just leave your name and an email address so that you can be contacted if you are selected.