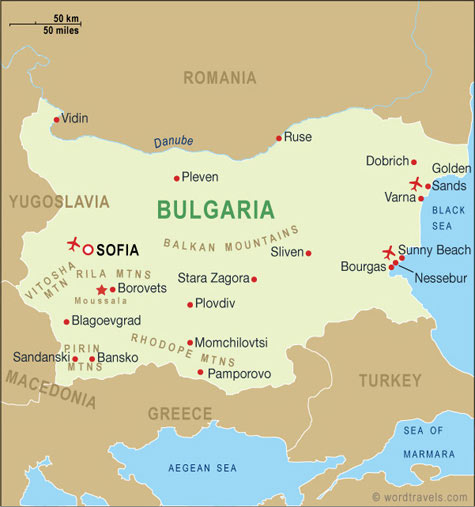 Yesterday morning my husband boarded a plane in Minneapolis with seven other members of our church on their way to
Stara

Zagora

, Bulgaria
. The first leg of their trip took them to Chicago to meet up with five additional team members from another state including my husband's long time friend and fellow minister,
Pastor Nick
. About 4:30 pm central time they all boarded a flight for
Vienna, Austria
. The almost ten hour flight and seven hour time difference made for a very long night. The last leg of their trip took them from Austria to the capitol of
Bulgaria, Sofia
, with another hour time difference. The team was then transported to
Stara
Zagora
where they will be ministering for the next thirteen days. They arrived this afternoon (Saturday), had a few hours rest and headed right out to do an outreach at 6 pm (10 am central time) where my husband would be preaching.
Technology is absolutely amazing and because of it my husband called my computer this afternoon using
Skype
and a web cam. For a few brief moments all six of us were huddled in front of my laptop trying to see and be seen and say hello.
(just a side note ~ Coleman was trying to show daddy his green balloon that he just received from the lady at the hair cut place ~ you know the important stuff)
It was after 11 pm in Bulgaria. He just wanted us to know they were all doing well, and that over 30 people made a decision for Christ at this first outreach.
I am often amazed at how the Lord puts things together. I saw first hand God's handiwork as I listened to each of the team members share their heart and passion for wanting to GO! As I helped finalize the plans for this mission's trip, I stood in awe of what God had laid out before us and what He was putting together. A young couple, a mother and daughter, an attorney, a single mom, an older woman who has been such a faithful servant in our church, and a pastor all packing a bag and going, just as Jesus commanded to "make disciples." Matthew 28:19-20 And we get to be a part of it through our giving and prayers. I stand in awe!
A few nights ago, as the team gathered one last time to finalize the packing of the gifts they had purchased for the orphans and children they would be ministering to, my heart became overwhelmed with what they would be seeing and doing. While the room was filled with chatter about flights, security, luggage, soccer balls, pumps, supplies, etc., I found my own mind wandering back to the emails I had exchanged with the mission team leader/the local church pastor in Bulgaria. He had shared in detail the needs of the people God has called him to minister to. I could hear through the written word the heart of a shepherd crying out for both the sheep in his pasture and those that weren't there yet. I could see God taking these eight people and using their lives to bring a message of hope and healing to a people in need.
The last few nights (and days) have been hard. Not in a bad way, but just like the last time my husband went on a mission's trip overseas, God was at work in ways we never imagined. There were changes ahead, unexpected turns, and yet GOING as he did then, was all part of God's plan. It seems the work isn't all done on the field, but it begins sometimes weeks and even months ahead of time right here at home. We could sense it the last time, we sense it again.
I would appreciate your prayers over the next two weeks. I will share more specifically about the people they are ministering to and some of the events they will be a part of in my next post. In the meantime, thank you for praying and listening.